Breast Implants in Palm Beach County
Enhance Your appearance and Confidence
Whether you are looking for a dramatic transformation or simple procedures to rejuvenate your look, Dr. Rosenstein can help you obtain the exact look you are searching for—no matter your age or stage of life. With the highest quality technology and surgical procedures in the industry, our plastic surgeon can perform breast implants and get you back to your normal routine as soon as possible.
You may consider breast implants if:
You have naturally small breasts
Your breasts became smaller due to breastfeeding or weight loss
Your breasts are disproportionate
You want to enhance your appearance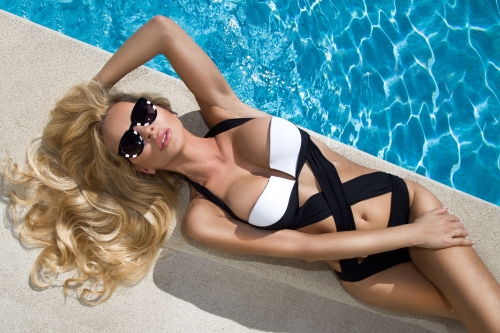 Breast Implant Placement Options
Breast augmentation is designed to meet your personal preferences in terms of breast shape and size. Your plastic surgeon will work with you to determine the best type of breast implants and placement for you. There are two breast implant placement options; the best placement for you may depend on your desired outcome, the type of implants chosen, the size and shape of your breasts and chest, and the amount of natural breast tissue you have.
Submuscular implant placement positions the breast implants so that they lie underneath the muscle as well as the fatty tissue of the breasts. Women with naturally small breasts or who want a more significant increase in breast size and less implant visibility can more often benefit from submuscular breast implant placement.
Subglandular breast implant placement positions your breast implants between the muscle of your chest and the fatty tissue of your breasts. This type of placement is often recommended for women who choose silicone breast implants or who want only a modest increase in breast size and have ample tissue to conceal the implant device.
Choosing the Right Implant Size for You
One of the most significant choices you will make with regard to your breast augmentation is the size of the breast implants you want. Fortunately, you will have help making this decision. Your plastic surgeon will evaluate your current breast size and shape, the quality of your skin and breast tissue, as well as your body shape to help you make the right choice. Furthermore, you will be provided with sizers, which allow you to "try on" different types of breast implants prior to your plastic surgery. This allows you to see how you will look after your surgery, as well as learn more about how implant size affects the final outcome of your breast augmentation. It's important to keep in mind that breast implant size does not directly translate into cup size after surgery; factors such as implant type, implant placement, and your own natural tissues make this outcome different for every woman. Your plastic surgeon has the experience and knowledge necessary to help you predict the outcome of your surgery to ensure you are pleased with the size and shape of your breasts.
Breast implants are performed for medical and cosmetic purposes and are sure to give you the confidence boost you are looking for. Visit our Boynton Beach office for a thorough consultation with Dr. Rosenstein. You can select a breast implant size based on your individualized wants and needs. Call 561-736-9800 to schedule an appointment.